Reign Of Blood News Blog
For all major news, updates and announcements for the online vampire game, Reign Of Blood.


Valentines Event & Incursion Tweaks
Posted on 10-Feb-2019


Valentine's Day Event

It is time for the 2019 Valentine's event! Buy a heart locket and complete daily quests to upgrade its power. Give love to other vampires which show up on their profile. Battle other vampires and collet hearts which can be traded for Roses which add to your stats.

We have the popular Reigning Couples contest. Grab another vampire and fight all the other Reign Of Blood couples to collect the most hearts possible over the event. Click here for details and how to team up.

And finally, we have a delicious VIP & Plasma special, which includes couples packs.

The event will begin Monday 11th February and end on Sunday 17th February. The Reigning Couples count will start on the 13th. However, the special packs are available right now.

Go to Dead City to check out al the features of this event (or the event page on mobile).


Incursion & Conflict Tweaks

Incursions are finally going great, here are some more Incursion and general conflict tweaks I've made this week.

- Coven token shop VIP for all member option cap lifted but has new sliding scale pricing, now starts at just 80 Tokens
- Incursion chats are now automatically wipes at the end of the week to stop overlap
- Operating members are now highlighted on the Incursion battle lists with an O icon
- Fixed error that displayed Incursion invite link to allied covens instead of just the host coven
- Fixed error with zaps not paying the bonus Incursion exp
- Fixed error with VIP feature to view the current player scoring displaying scores squashed together
- Fixed error with "This Round Your Exp" showing up as blank on mobile
- Fixed error with Finishes only showing in team score and not showing in your personal score
- A player must now earned 1,000 Incursion Exp for the free weekly QP
- A coven must have at least 3 operating members in order to be attacked in an Incursion


Incursion Reward Changes

I have made some tweaks to the reward structure of the Incursions. This will help mitigate the reward of attacking "inactive/dead" covens, and give some reward to covens who fight back but still lose.

If your team wins an Incursion (this applies if you are attacking or defending), and the team and your coven hits the minimum requirement, your coven will be rewarded as outlined below.

Coven Exp Rewards
Coven Exp Reward 1 = ((average enemy coven level) + (your average coven level) x 200)
Coven Exp Reward 2 = 1% of your coven exp bar for each round won (up to 13%)
Coven Exp Reward 3 = Operating Member Bonus%*

*The bonus is based off the count of operating members in the enemy coven you attacked (or your coven, if its lower) up to 10%. This number is the % of your exp bar you are rewarded with. So if your operating member count is 7 and the target coven has 3, you'll get 3%. If your operating member count is 13 and the target coven has 44, you'll get 10% (13%, but the cap is 10%).

Seed Rewards
Seeds To Share = 15 (1 coven), 100 (2 covens), 225 (3 covens)
(Seeds will be shared equally between all the covens in the alliance who qualify. The share of seeds for a coven that didn't qualify are discarded. So a 1 coven Incursion team would earn 15 Seeds, a 2 coven Incursion team would earn 50 Seeds each, and a 3 coven Incursion would earn 75 Seeds each.)

Seed & Coven Exp Boosters
If total Incursion exp is more than total operating members x 100 = +30% exp & token boost
Having 1 coven ally = +20% exp & token boost
Having 2 coven allies = +40% exp & token boost

If your team loses an Incursion (this applies if you are attacking or defending), and the team and your coven hits the minimum requirement, you coven will earn +1% of your coven exp bar for each round you won.


Incursion Score Changes

The Incursion Exp bonuses have been changed, as outlined below.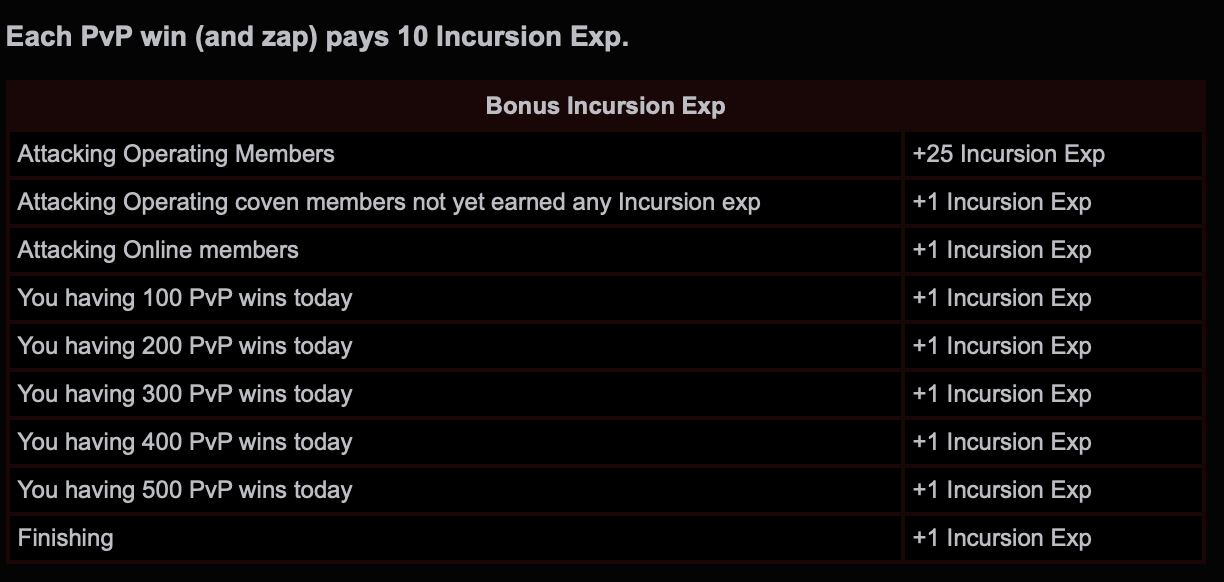 As you can see the bonus for attacking operating members has gone up quite a bit. I have several different ways I'd like to take the scoring, but I have to keep in mind I don't want to bring back the strategy of kicking members out of covens to take part in conflicts. As these bonuses apply to both your coven and their coven, there's no benefit to doing that, so I'm enjoying trying to find the right balance of scoring. The Incursion guide has been updated to reflect these changes. There are a couple other bug reports which I'm still keeping an eye on, which I'll fix as soon as I see them come up for myself. And as always, I'll tweak the scoring and rewards as I see it used in the wild and how the Incursions progress. I look forward to seeing these changes play out.

Enjoy,
Ash









Comments


Create a Reign Of Blood account to comment on the game news.